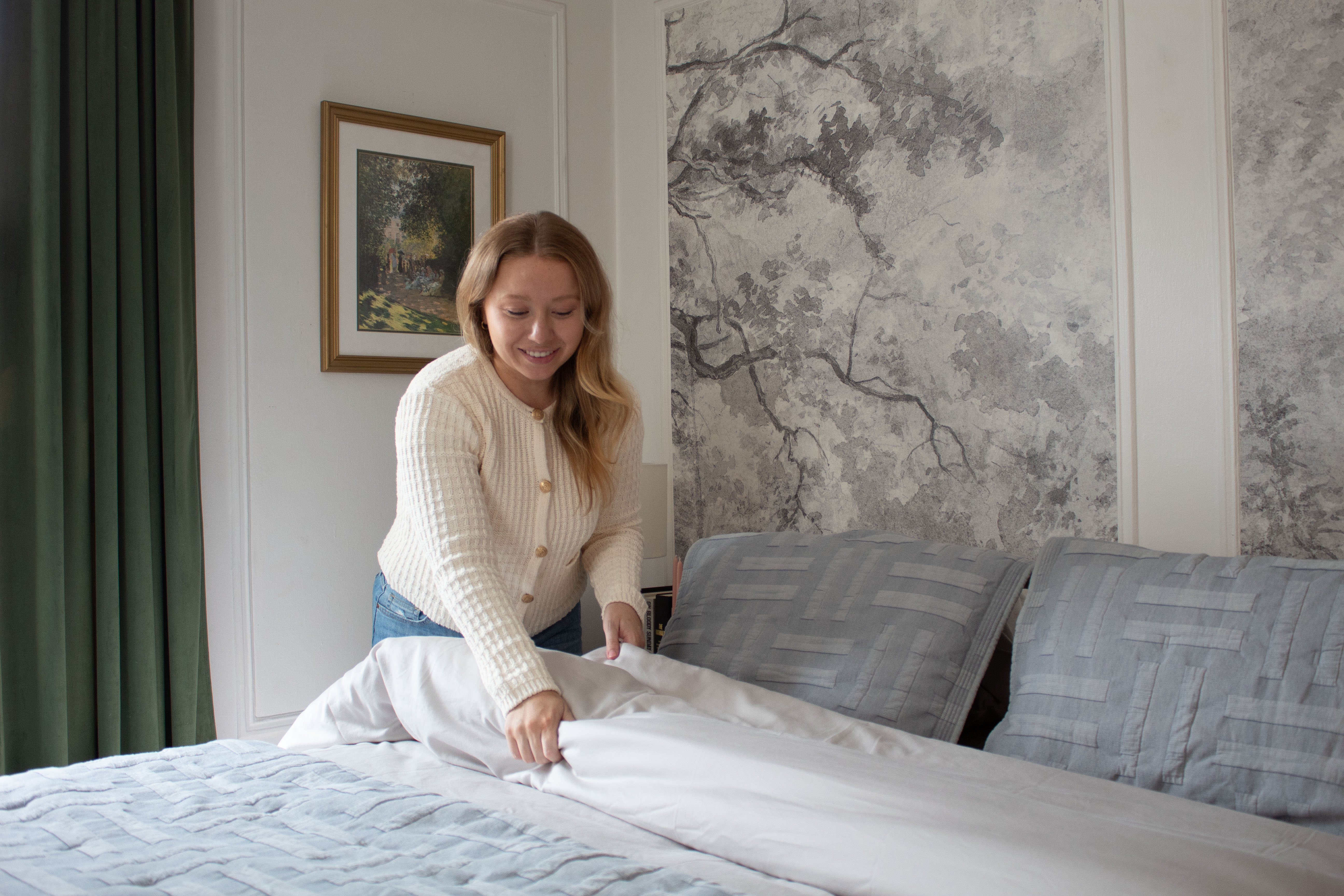 Madeline's Sanctuary: The Alchemy of Curating Spaces
Madeline describes her space in three words: Transitional. Parisian. Cozy.
There's a touch of tradition blended with a dash of soft and modern charm. Dominating the room is a striking black and white floral mural, paired harmoniously with the classical wall moldings. This neutral canvas lets her play with seasonal hues. Think fresh whites mimicking summer clouds with room to transition to warm taupes and greens when fall comes around.
Madeline believes in a subtle balance of contrasts. "I love a chunky throw blanket to add a bit of texture to the bed," she says. "Throughout the room, I also use contrasting materials such as wood and glass/mirrors to create contrast between metallic and natural elements."
Objects with stories leave their footprints all over Madeline's sanctuary. Whether it's the cork trivet from Portugal that holds her makeup or the sense of artistry picked up from the many markets she's explored, each item tells a story. 
"Most of the furniture in our apartment is secondhand," Maddie notes, "but you would never know it! I love sourcing pieces secondhand and vintage when I can because I find more unique items for a better price, and slow down the fast furniture cycle."
A personal favorite? The Murano Glass-inspired perfume bottle from Venice—a precious memento from her travels and her wedding day.
I love a chunky throw blanket to add a bit of texture to the bed.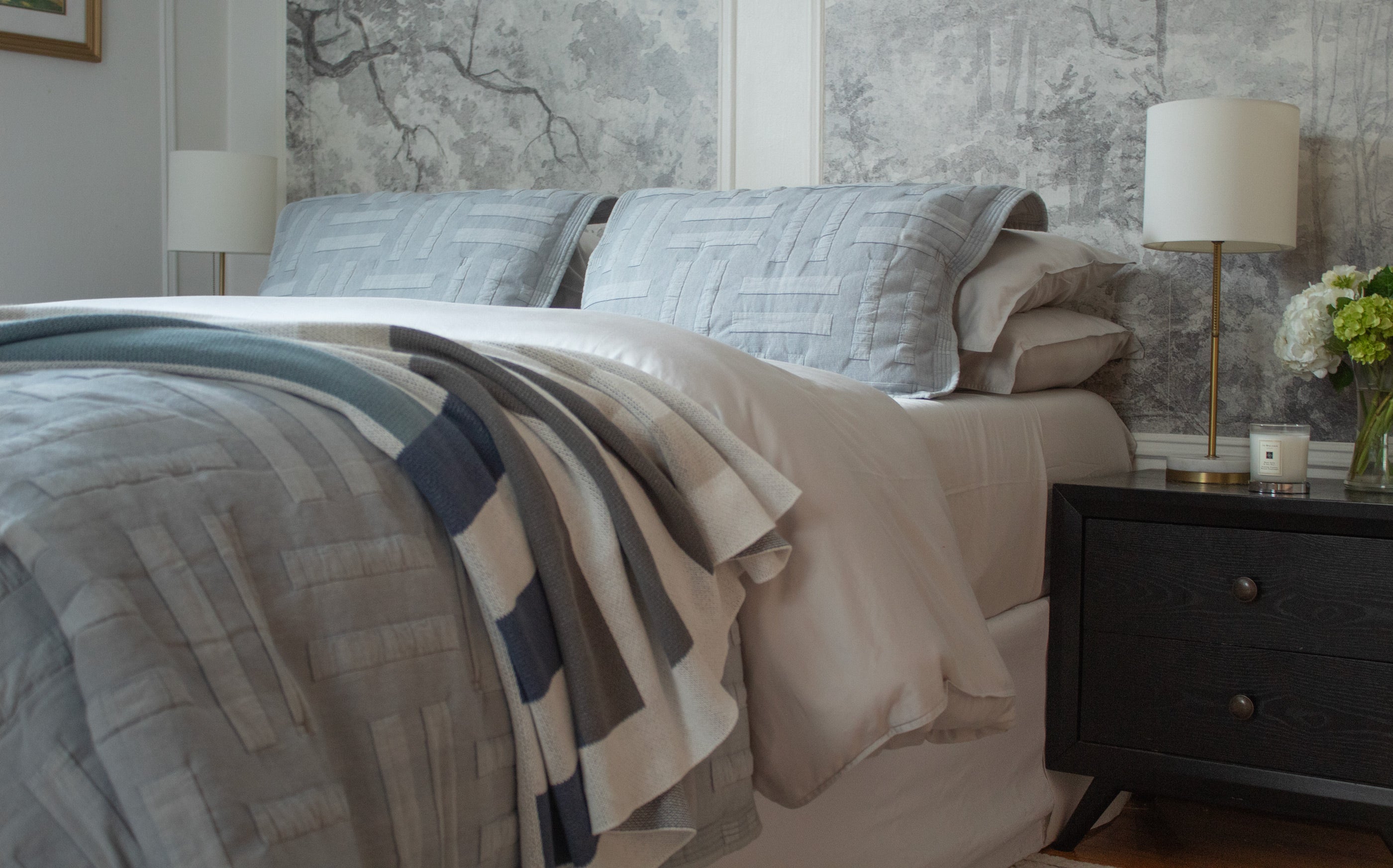 The details of a journey
New York isn't just concrete and hustle. In the city's heart lie countless dreamy apartments meticulously crafted by artists like Madeline. As an interior decorator, stylist, and content creator, Madeline harmonizes her DIY spirit, rental tweaks, and smart small space living to curate rooms that feel deeply personal. 
Madeline's design philosophy shines through every corner of the space, especially in her choice of lighting. Abiding by the rule of three, "the idea that rooms have the best light balance and ambiance when there are three light sources arranged in a triangular shape," she balances "an overhead light, a table lamp, and an accent light. In [the] bedroom, we have two table lamps and an overhead light."
There are also intimate treasures tucked in corners, like the framed floral bouquet from the first intimate wedding ceremony she held during the pandemic, a testament to love in times of adversity.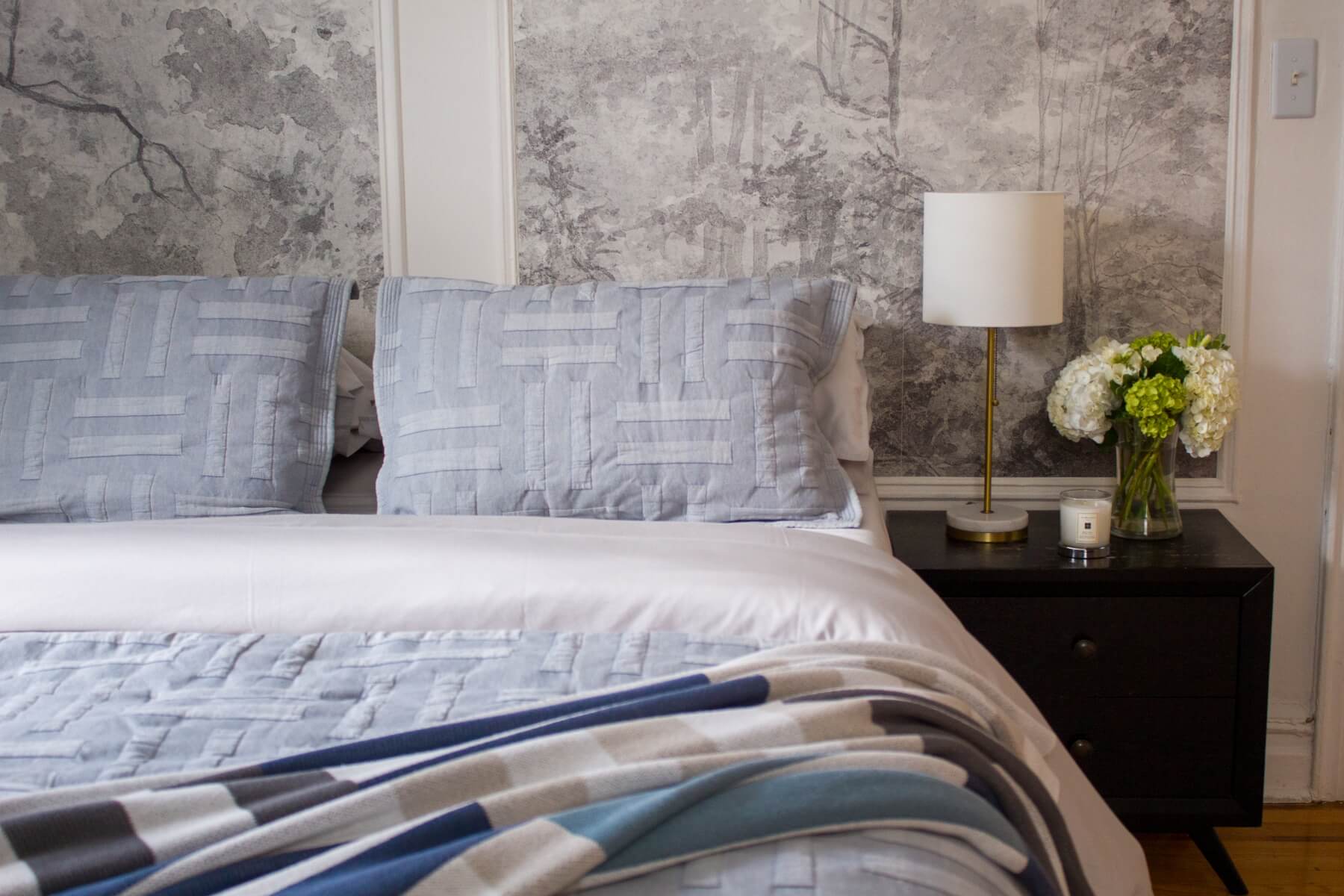 Personal musings
Q: How does your inner child influence your room?
A: One of my most inspirational movie scenes of all time is in The Great Gatsby when Nick Carraway first sees Daisy Buchanan. She and her friend Jordan Baker are frolicking around an opulent, art deco sunroom as the wind sweeps the long white linen curtains into the room. The scene feels like a moment of blissful elegance, and from the moment I saw it, I always wanted to have a room in my home that feels that way. 
Q: How do you approach balancing functionality with aesthetics?
A: Specializing in small space living, functionality and storage are at the forefront of many of my design decisions. I am always thinking about how I can create storage spaces in unexpected places or build functionality into traditional dead space. This could look like using a storage ottoman as a coffee table or – one of my favorite projects – building a work-from-home desk into a deep window sill. 
Q: How do you approach rest and winding down? 
A: As a small business owner, I'm not very good at winding down. I always feel like there is something else I could or should be doing instead of sleeping. That being said, as I find more balance in my life, I know how vital moments of rest are, and try to take more time to prioritize winding down when my body needs it.
Q: Where do you spend most of your time in your room and why?
A: Sitting on my bed! I have always been one to work from my bed, so it's a natural place for me to sit. I love the deep orange shadows the afternoon sun casts across our room during the summer. 
Q: What makes a space feel like home?
A: My husband. He's my best friend, and anywhere he is is home.
Q: As your design perspective evolves, how do you see your space changing?
A: My brand name, Tulips for the Table, derives from the pursuit of creating a life well curated. I believe the perfect space is not built in a day but instead created over time through the collection of pieces that bring you joy. So that all homes, regardless of size or ownership, should be a space to which you look forward to returning. When I started Tulips for the Table, my design style was very Traditional/Transitional and still is in many ways, but I feel myself growing. Every day, I'm inspired by new art and design elements that change my perspective of what interiors are and can be. Right now, I'm feeling very inspired by 60s and 70s trends and color palettes. I'm loving bold-colored stripes, organic statement seating, and tactile materials like velvet and bouclé.
Q: Any cozying-up tips for our readers?
A: Start with organization. It's so much easier to relax when everything has a place and can be put away. From there, incorporate warm colors and textured materials. Candles and layered bedding always make a room feel cozy to me.Spaces are intimate reflections of who we are and where we've been. And with the right choices, whether it's the perfect bedding or a flea market find, you can craft a personal haven that you'll never want to leave.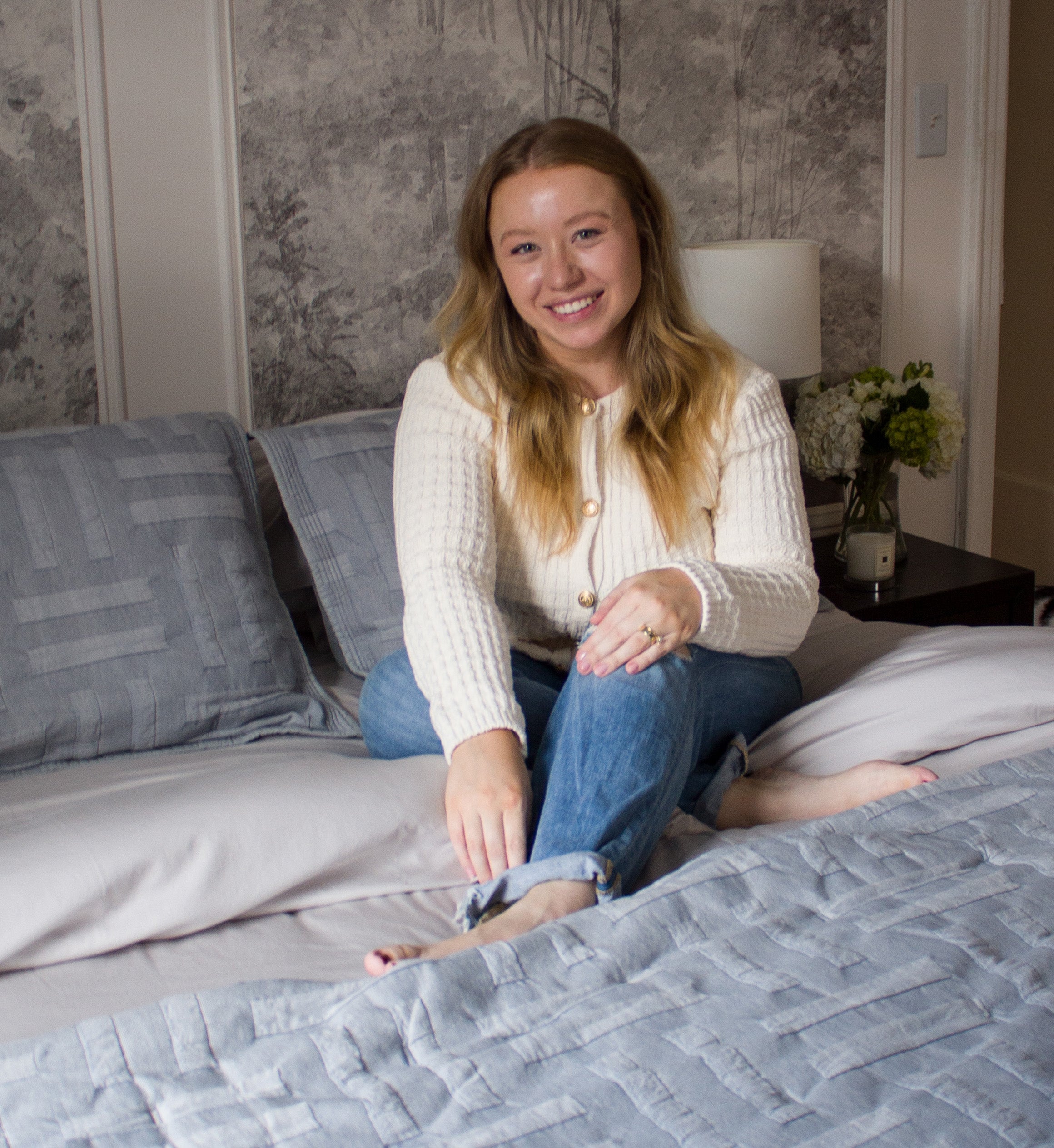 Every day, I'm inspired by new art and design elements that change my perspective of what interiors are and can be.
Madeline Scalzi
@tulipsforthetable
Interior Decor & Styling tulipsforthetable.com