Elevating the Everyday: Inside Michelle's Thoughtfully Curated Bedroom
Nestled in the heart of Texas, Michelle's bedroom offers an intimate glimpse into her life's passions and daily rhythms. 
A stay-at-home mom to twins and a wife to a dedicated veteran, Michelle effortlessly intertwines her love for home interiors and photography with the demands of running a small business. Her journey to creating a comfortable yet functional home begins right here, in the sanctuary of her bedroom.
"The aesthetic of my room is: laidback, luxe, and cozy," Michelle reflects, capturing the essence of the space in just three words.
The aesthetic of my room is: laidback, luxe, and cozy.
Making it work
It's hard to miss the rich interplay of textures and materials throughout the room. Neutrals reign supreme, punctuated by careful choices that add depth and dimension. "For me, texture and materials are so important," she elaborates.
Every element has been thoughtfully chosen, from linens to wood and even hints of marble. While she contemplates future additions like limewash for the walls, for now, the room feels perfectly 'Michelle.'
A tall upholstered headboard anchors the space and instantly draws the eye. A reminder of luxurious hotel stays from her travels, the bed embodies the blend of upscale coziness she cherishes. "It's giving the luxe but relaxed look I've always wanted," she remarks.
Even the room's lighting has been carefully curated. Michelle leans towards lamps with warm light bulbs, echoing the room's cozy ambiance. "Warm, dimmable lighting at night is so relaxing. Trust me on that one," she adds.
For me, texture and materials are so important.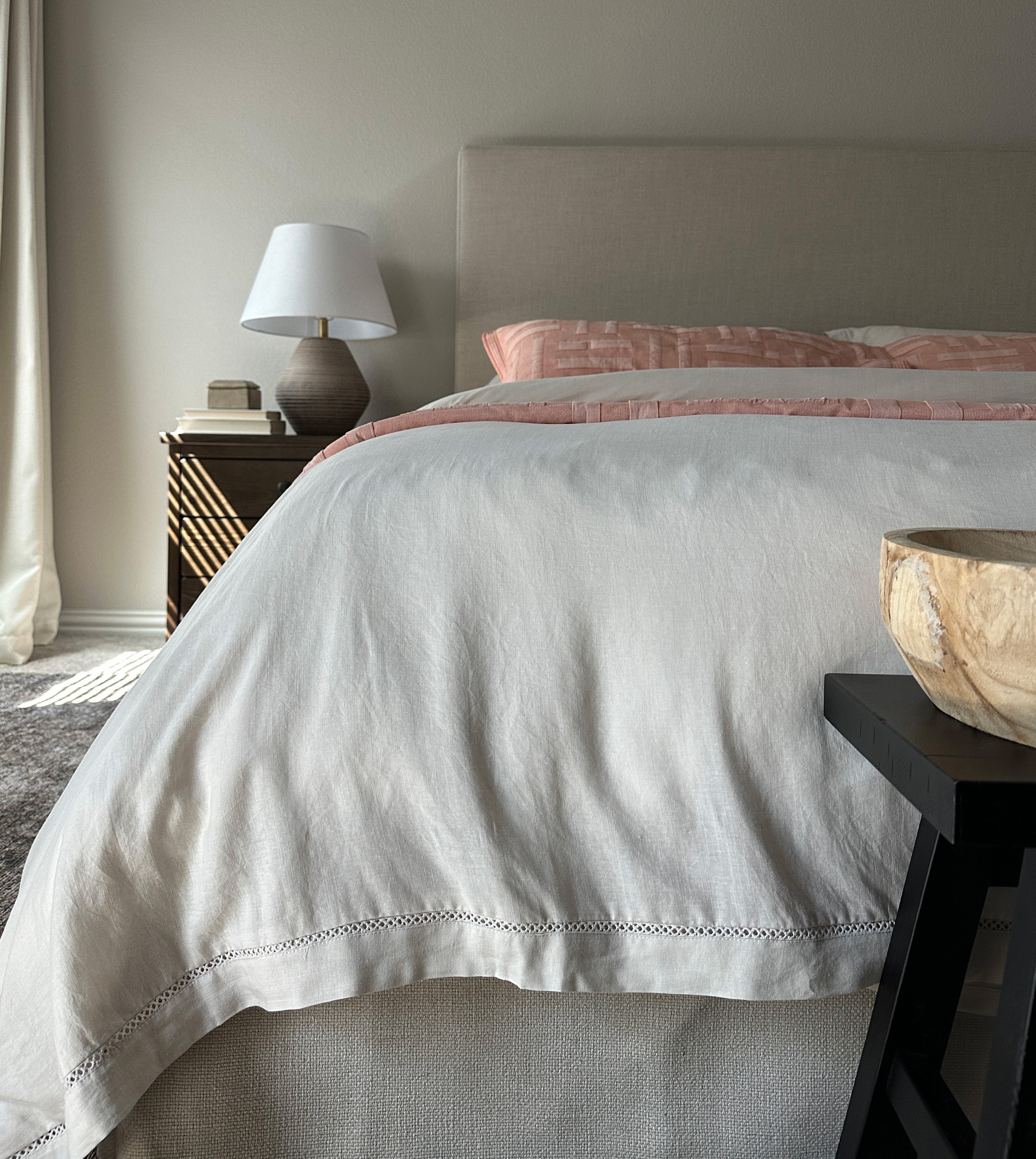 Little moments
Every item in the room has a story, yet a particular marble tray on her nightstand holds a special place in her heart. A vintage piece gifted by her sister, it represents the blend of old and new that defines her philosophy on sourcing items. 
The mix of thrifted, vintage, and new pieces harmonize with the room's layered design. Echoing Michelle's commitment to authenticity, each touch reflects this balancing act between aesthetics and functionality. 
She stresses the importance of functionality, emphasizing that understanding how a family operates is crucial in design. "I was all about aesthetics. But then I started to learn how my family operated, and honestly, function has become more important," she muses.
Personal musings
Q: What challenges have you had with bedding in the past?
A: I would say the biggest challenges in bedding are quality, temperature control, and comfort. I went from someone who could literally sleep anywhere to needing all of my essentials and quality bedding. I think it is worth it to spend money where it matters, and let me tell you, my sleep matters. As I get older, I think there are some things you appreciate more, and my sleep is one.
Q: How do you see your space evolving?
A: I see my space evolving toward some more vintage pieces and art. I would love to find a desk to do my work at, but I want something special and unique. I think once you have all the larger pieces in place, it's nice to add in items with a soul. I would also love to build a coffee bar, possibly. Our bedroom is on the second floor, and the stairs are no fun when I am super sleepy in the morning. Also, picture it: my first cup of the day in my cozy bed? Yes, please!!
Q: Where do you spend most of your time when you're in your room, and why?
A: I spend most of my time in my cozy bed because it is literally the most comfortable place in the house. We made sure to buy a comfy mattress, and the new beautiful bedding just levels it up.
Q: How do you approach rest and winding down?
A: At the end of the day, my bed is my favorite place to wind down. After a shower and all my nighttime rituals, I'm under the covers. I would like to say I read a nice book, but instead, I watch reality TV. For some reason, that is relaxing to me and it's my favorite place to catch up on shows. I also use that time to catch up on any editing or planning. I love a cold room with my comfortable bedding. If given the choice, I'll always choose my bed.
Q: How do you balance functionality and aesthetics?
You can't have a nightstand without drawers when you need the storage. The size of your bed also matters. I wouldn't go for a King bed in a smaller space. Or add seating to the end of the bed, if there is no pathway. As far as the aesthetics, you can't go wrong with neutrals. Maybe even a pop of color. Keeping it simple and reducing clutter also makes the biggest difference. Having a basket for all your pillows and organizing your power cords in a way that is more pleasing to the eye is so helpful. I would love to have nightstands that have power within the drawer one day. I'm a strong believer that less is more, and when your brain is not cluttered with chaos, you can rest easier.
Q: Do you have a favorite corner in your room?
A: I really don't have much in the corners, but my dog has his basket of toys and always chooses one to bring to bed with him. I love that he does that, and it's the cutest.
Q: What makes you feel like home?
A: Home is my favorite place to be, so honestly, anything. My littles running around, my coffee in my favorite mug, my husband telling Dad jokes, the comfort of my own bed. There was a time when I was traveling all over the world. While I am super grateful for those experiences, there is nothing like home, and it's our safe haven.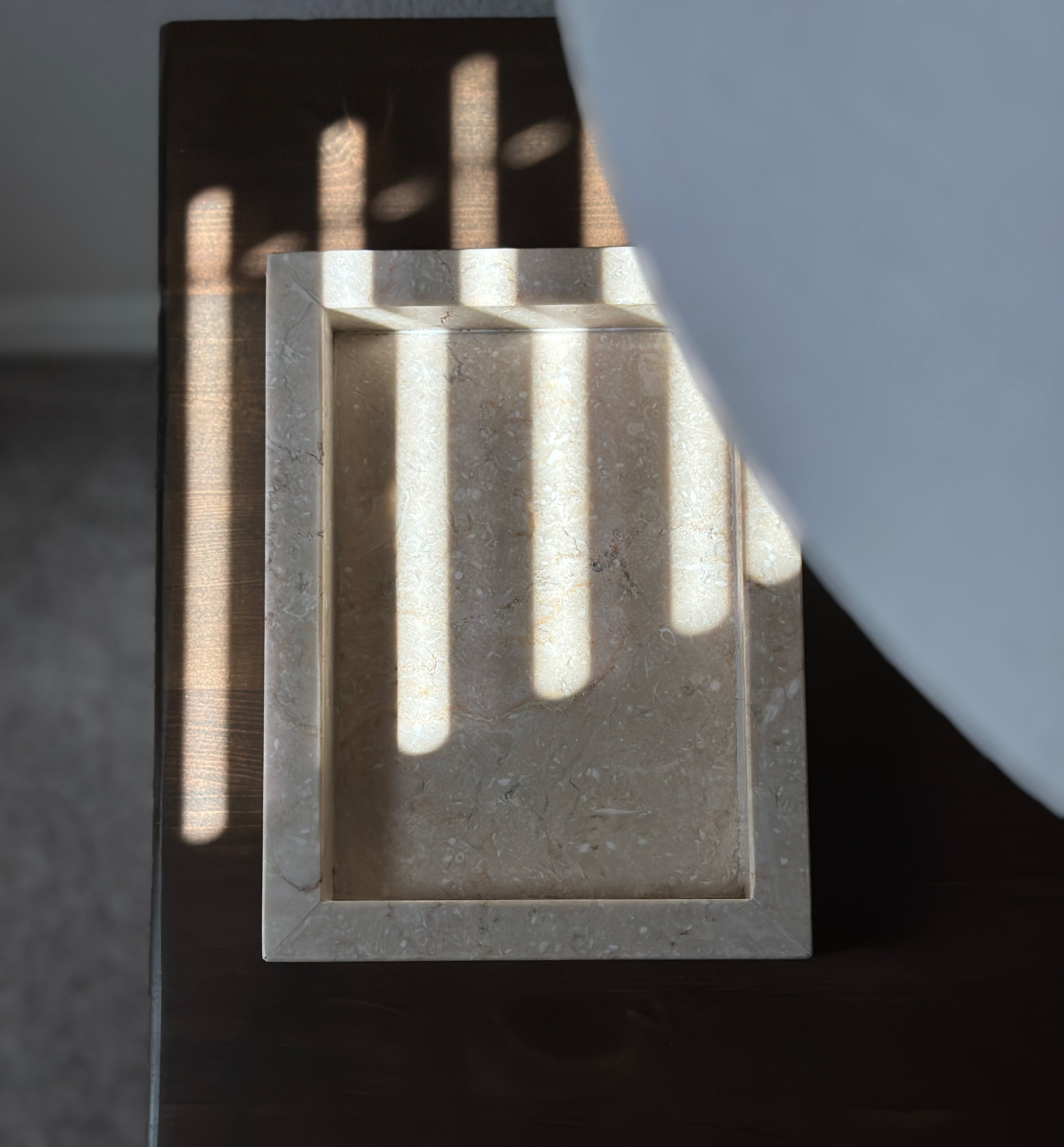 Last thoughts
If you learn anything from me, it's that I have learned to appreciate the smaller, slower things in life. I'm always evolving, but taking time to care for my family and myself is crucial. I think creating a home or space that feels like a warm hug is one of the best things you can do for yourself. 
Make your home or at least a room in your home feel like you. Then you will never get tired of it. Something to remember, though, is home takes time. A lot of time. Coming from someone who used to only own what was in her suitcase to now. It takes a lot of hard work and patience. It also takes time to figure out what your style is and how your home makes you feel. 
Everyone has their own sense of style; they just don't know it yet. There are so many resources out there to help you out. But if you need a starting point, start with your bed! Lastly, if you have a happy and healthy home, it will allow everyone within the home to be happy and healthy too.
Michelle Manzanet
@thecasacompass
thecasacompass@gmail.com