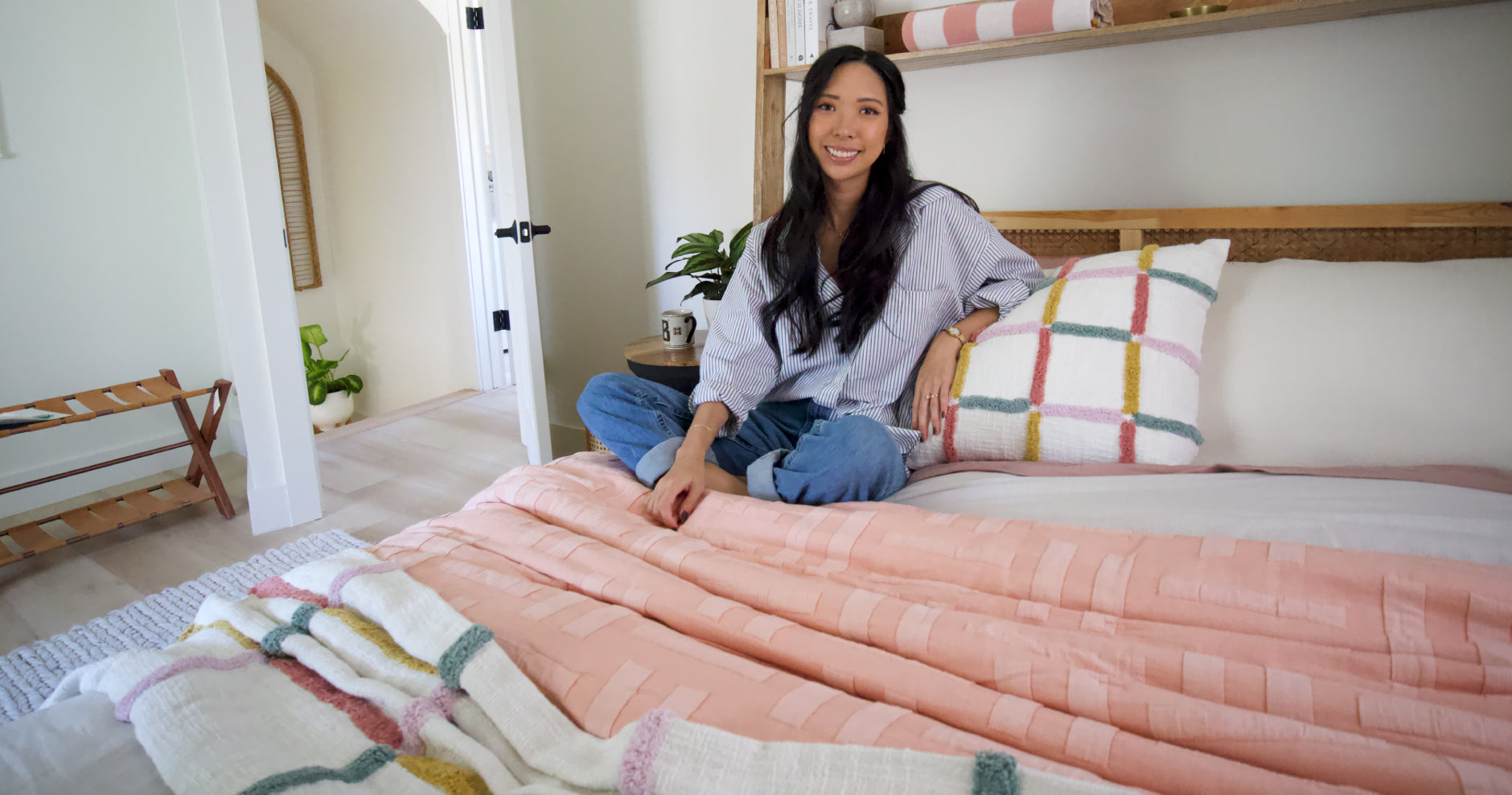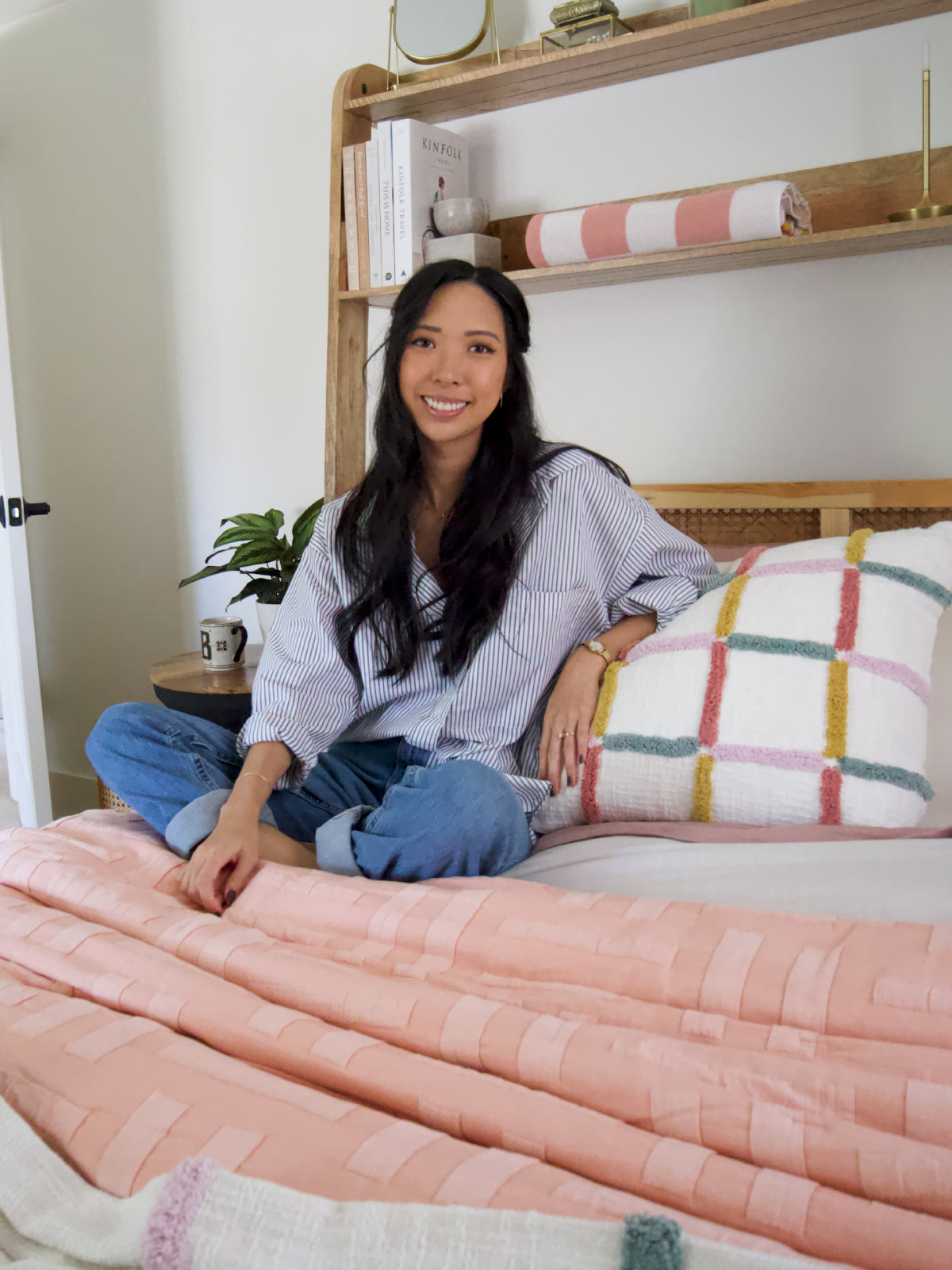 Michele's Cozy BohoChic:
Weaving Personal Stories into Home Decor
A New York native with a passion for interiors
Meet Michele (known as @cozycloves online), a content creator and first-time mom from New York. With her husband Anthony, she co-founded Cozy Cloves, a creative project born on their Brooklyn apartment floor.
Their joint venture blossomed into a unique platform where home decor meets personal storytelling. Now settled in Long Island, Michele continues to infuse her home with memories of travel and a love for culinary arts, making it a true reflection of her family's journey.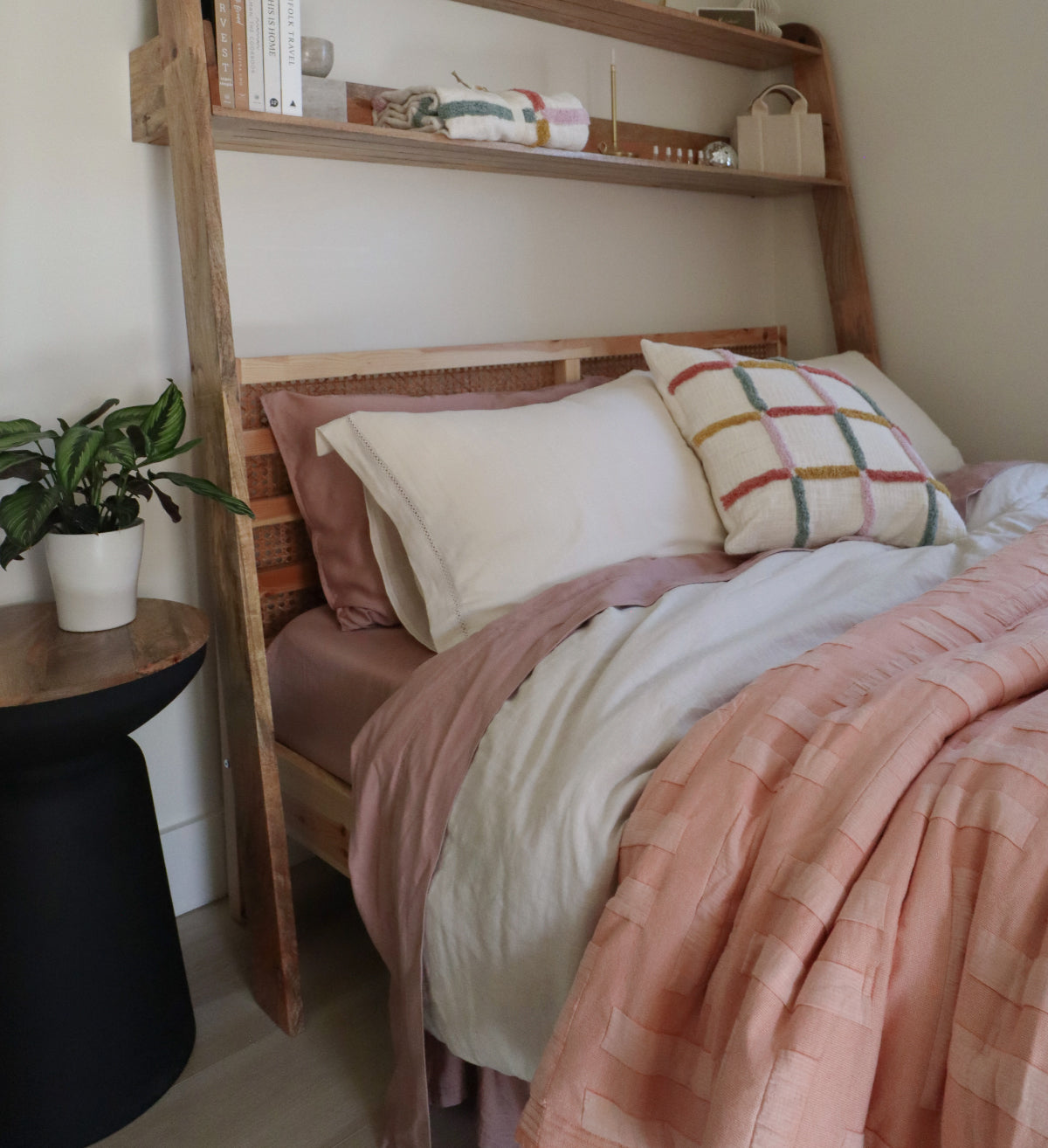 Crafting a haven
Michele's bedroom, described as "Cozy, boho, chic," is a sanctuary where personal style meets comfort. Her color palette, dominated by neutral tones, acts as a canvas for pops of color, allowing her to experiment with various design elements.
Michele emphasizes texture and material diversity, from cane webbing on the headboard to linen curtains and a chunky knit rug, ensuring depth and warmth in every corner.
Objects and energy
For Michele, lighting is key to the room's ambiance. She maximizes natural light and uses soft, warm bulbs to create a cozy evening atmosphere.
Travel plays a significant role in her decor, with souvenirs like an Egyptian jewelry box adding global narratives to her space. Michele also cherishes vintage finds, appreciating their sustainability and unique history.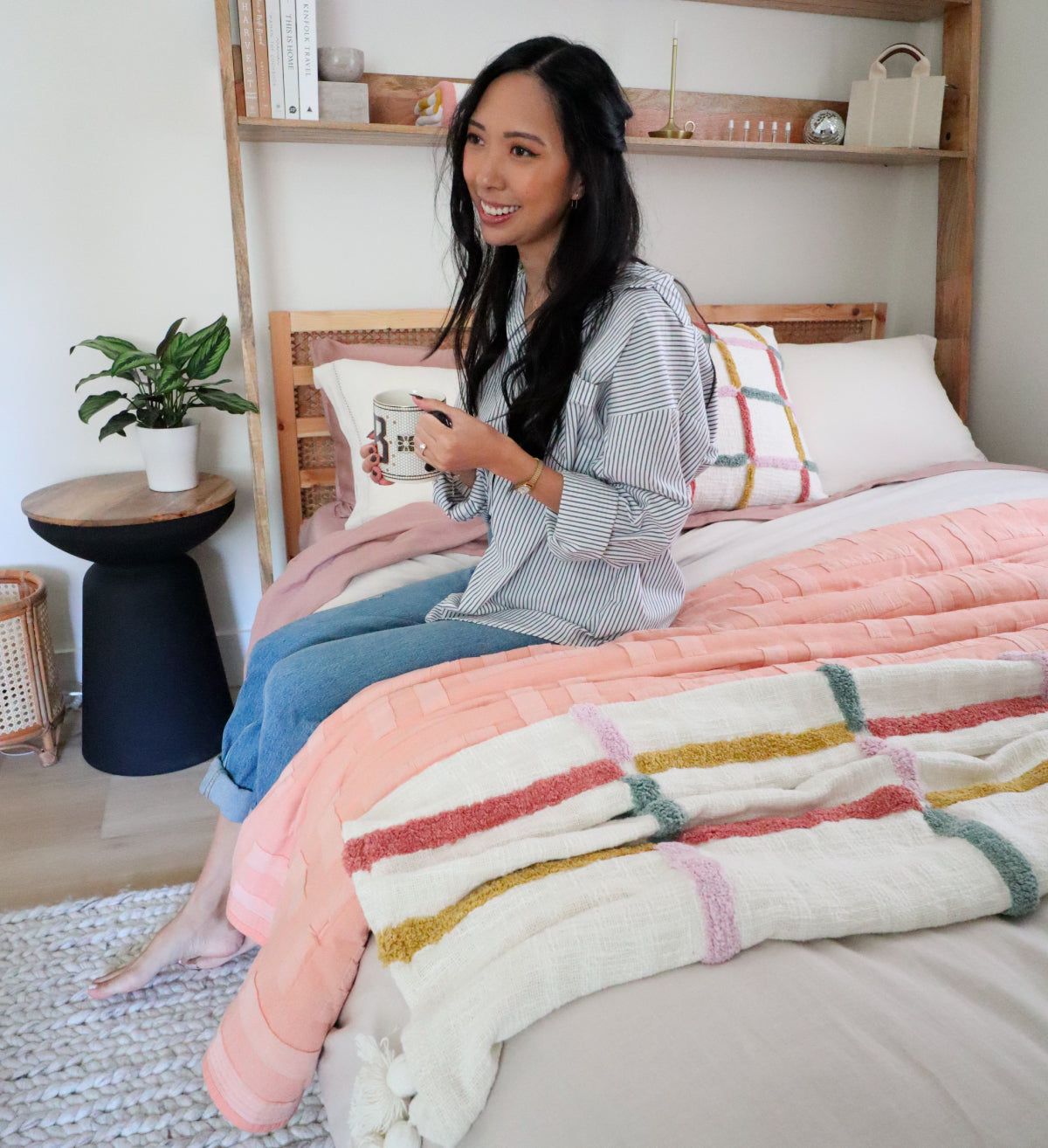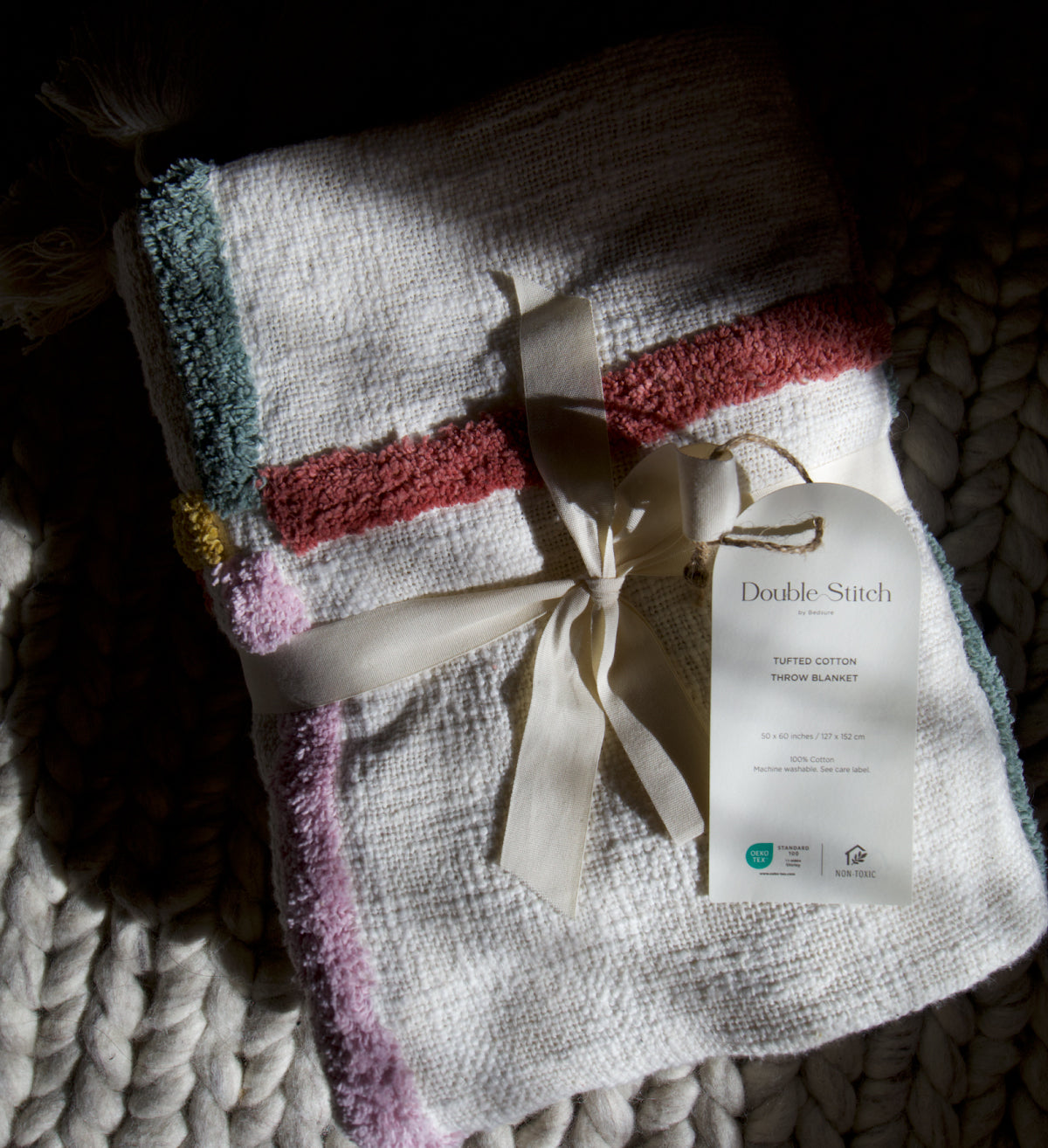 The work of time and evolution
Creating the perfect room hasn't been without challenges. Michele points to time as the main hurdle, acknowledging that decorating is a continuous process.
She emphasizes the importance of selecting high-quality bedding, like those from Double Stitch, to prevent issues like pilling. Michele's design journey involves patience and a keen eye for detail, allowing her space to evolve naturally.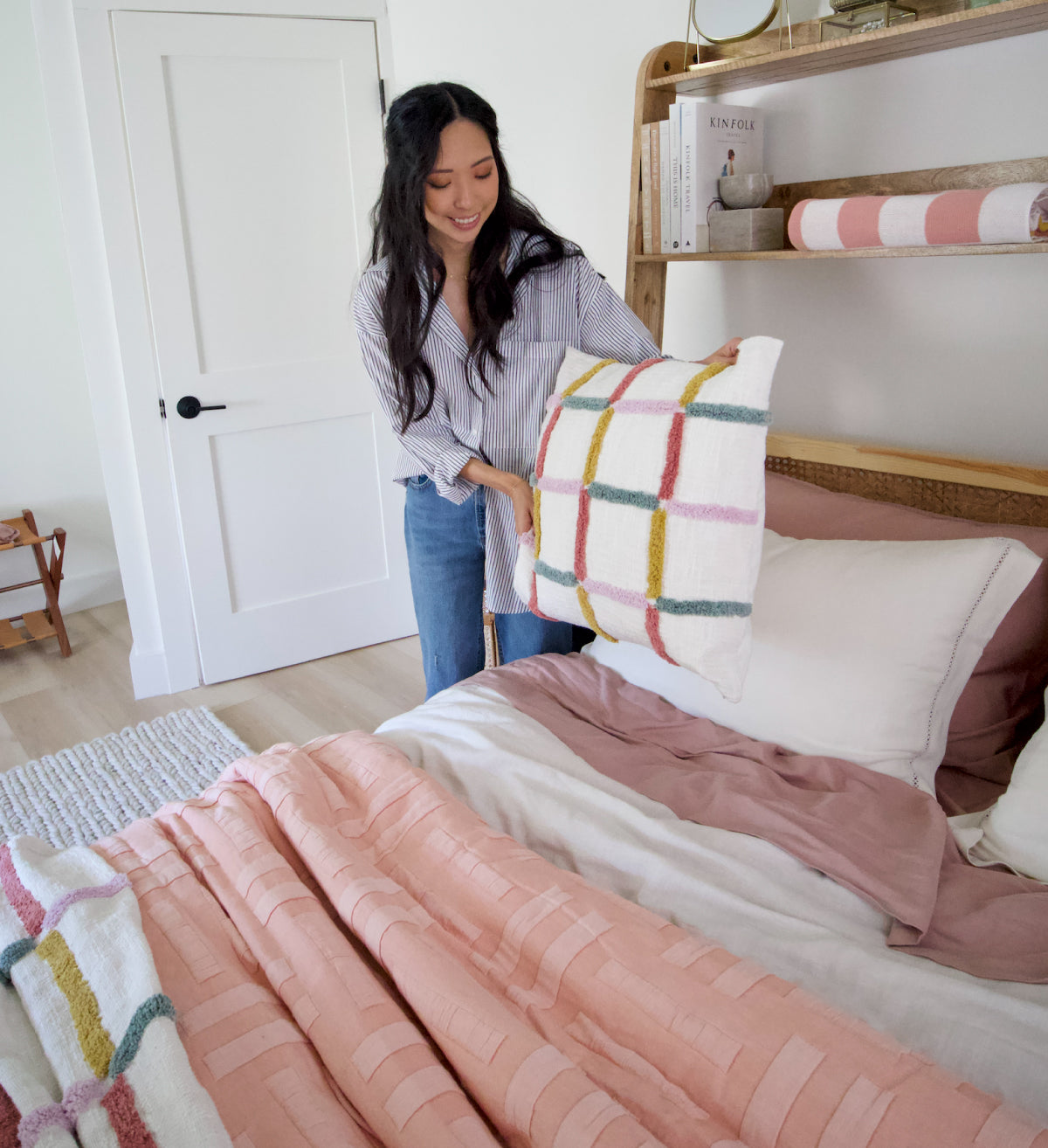 Balancing functionality with style
Functionality often takes precedence for Michele, but she believes the real magic lies in finding items that marry style with utility. Her most cherished moments are spent in bed with her family, making those quiet, intimate times the highlight of her day.
Working toward a space that tells a story
Michele aspires for her space to encapsulate more meaningful moments and experiences. Her goal is to curate a collection of items that not only have aesthetic appeal but also hold sentimental value.
She envisions a space that evolves with intention, showcasing elements that tell the story of her family's journey.
Personal Musings
Q: Describe the aesthetic of your room in three words. 
A: Cozy, boho, chic 
Q: What inspires the color palette of your room? 
A: I find that neutral tones, such as soft whites and warm beiges, create a timeless backdrop that serve as a canvas for various design elements. To add a personal touch, I incorporate pops of color through accent pillows, throws, artwork, or decor. The beauty of this approach lies in its versatility. I can easily switch out pieces to refresh the room's look. It allows me to play with different color schemes and experiment with trending or seasonal shades, providing the flexibility to express my creativity and adapt the room's aesthetics to various inspirations over time.
Q: How do you incorporate different textures and materials? 
A: My approach to incorporating different textures and materials lies within the foundation of the room. I added cane webbing to the wooden headboard to introduce a tactile element that contrasts with the smooth surfaces of the bedding. I chose long linen curtains because the material softens the overall aesthetic of the atmosphere and introduces a subtle organic feel to the room. For the floor, I opted for a mixed gray chunky knit rug to add some cozied warmth. And finally, I made sure to incorporate plants, another layer of texture I find essential. Overall, I think the interplay of rough and smooth or soft and firm adds depth to even the tiniest of corners.
Q: How do you approach lighting in your room?
A: Whenever possible, I try to maximize natural light during the day. Incorporating light-filtering curtains or blinds allows the sunlight to softly brighten the room. At night, I try to create ambient lighting, so the room has a soft, diffused glow. Floor or table lamps in corners contribute to a cozy atmosphere, and opting for warm/soft bulbs is a key aspect of my lighting strategy. 
Q: Has travel affected your room? Think souvenirs, artifacts, style, etc. 
A: Absolutely! Travel has significantly influenced the ambiance of my living space. I love collecting souvenirs and trinkets from travels. Each piece tells a unique story and carries sentimental value. Whether acquired from bustling marketplaces or iconic landmarks, they serve as a tangible reminder of the diverse cultures and experiences I've encountered. One of my longtime friends gifted me a jewelry box from Egypt, where she's from, and it sits atop one of the shelves in the bedroom. These pieces are more than just aesthetics, they contribute to the overall narrative of the space, and it's the perfect way to bring the world into our home.
Q: How do you balance functionality and aesthetics?
A: It's not easy! More often than not, functionality wins. I think that a well-designed space should enhance daily living, providing comfort and efficiency. Yet, the true magic happens when you discover pieces that seamlessly integrate both style and function. Achieving this delicate balance requires time and patience. It's exciting to decorate and fill a room, and often we want to do it as soon as possible. But the reality is, the perfect pieces aren't always readily available. It's during the journey of decorating a room that you realize the importance of allowing the space to evolve organically. The ideal pieces may be found in the most unexpected places!
Q: Where do you spend most of your time when you're in your room and why?
A: Snuggling in bed with my family. My husband and I became a family of 3 last year and it's been a whirlwind. Whether we're watching a movie in bed, sharing a nap, or playing peek-a-boo with the sheets… it's these simple moments I cherish the most.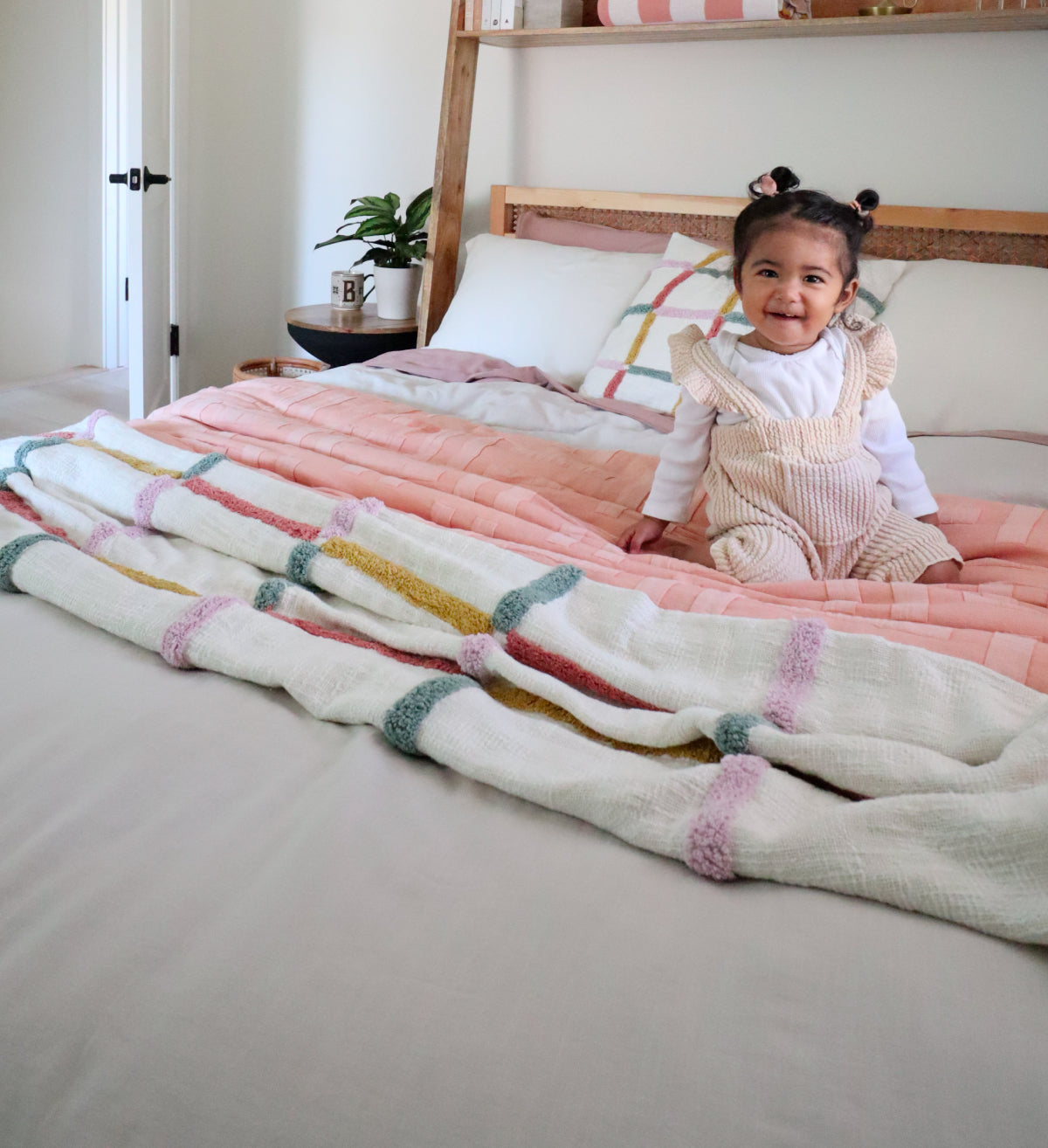 Michele's advice for a cozy bedroom
For those seeking to create a cozier bedroom, Michele suggests starting with high-quality bedding.
She believes in the power of ambient lighting and personal touches to create a space that resonates with individual comfort. "Remember that coziness is a subjective concept – it's about what makes you feel at ease and content," Michele advises.
Her approach is a blend of practical choices and personal narratives, creating a space that's not just visually appealing but also emotionally resonant.